---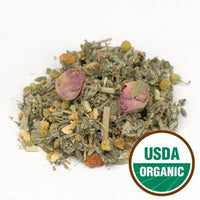 Made with our premium quality aromatic herbs and spices, this Organic Herbal Bath Blend provides a relaxing and aromatic bath blend that's great for end of the day relaxation, and to help ease a tired and aching body.

Ingredients: Sea salt coarse, organic orange peel, organic chamomile flowers, organic lavender, organic rosemary leaf, organic raspberry leaf, organic rosehips, organic peppermint, organic sage leaf, organic lemongrass, organic red rose buds and petals, organic bay leaf, and organic cloves.
Directions: Prepare bath with warm water. Place Organic Herbal Bath Blend Bag directly in bath water and let set a few minutes; soak in bath.
***Packaging: Each herbal blend comes in sachets weighing 1 oz and is approximately 3.5" W x 5" H.
****PLEASE NOTE: Lucero Astral recommends you consult with a qualified/certified Herbalist/Healthcare Practitioner before using any herbal products, particularly if you are pregnant, nursing, or on any medications.