---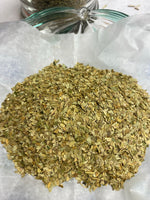 Spritual Uses: Associated with Earth. Useful for Fidelity, love and lust
Boosts energy and mental focus, rich in nutrients and antioxidants, immune booster, may protect against heart disease. 
Yerba Maté is a traditional South American brew that's been said to offer the "strength of coffee, the benefits of a healthful tea, and the euphoria of chocolate" all in one beverage.

Brewed from the naturally caffeinated and nourishing leaves of the species of holly native to the South American Atlantic rainforest (Ilex paraguariensis),Yerba Maté provides antioxidants, minerals, amino acids, and B vitamins to support a healthy lifestyle. It is a balanced and healthful tea that produces a smooth and refreshing full bodied beverage, and is known as an energizer and rejuvenator. It has a satisfying richness that many people may find lacking in green tea, but it is less acidic than coffee. All Yerba Maté Leaf Teas do contain caffeine, and the caffeine content can vary, depending on which variety of maté it is, and how you prepare it. It does usually contain slightly less caffeine than coffee.
****PLEASE NOTE: Lucero Astral recommends you consult with a qualified/certified Herbalist/Healthcare Practitioner before using any herbal products, particularly if you are pregnant, nursing, or on any medications.