---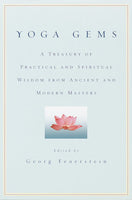 ABOUT YOGA GEMS
Here is an inspirational and accessible introduction to the deep inner wisdom of yoga gathered from sources both ancient and modern by one of America's most respected yoga scholars.

YOGA GEMS

For the millions of Americans who now practice yoga regularly, here is the perfect introduction to the rich philosophical and spiritual tradition behind the exercises.

George Feuerstein has drawn short, memorable quotations from the key texts of this five-thousand-year-old legacy, with an emphasis on the wisdom of modern yoga masters.The quotations have been selected and arranged to address the needs of yoga practitioners in the twenty-first century.

Among the many themes touched on in this treasure of a book: the process of inner growth; the value of silence; how to meditate; how to infuse everyday life with joy; universal kinship; overcoming suffering; dealing with grief, loss, anger, and jealousy; remembering and cultivating one's true inner self; developing self-discipline; and bringing out the good in all you say and do.

For both new and experienced yoga students alike, Yoga Gems is the perfect travel companion on the road to inner peace.