---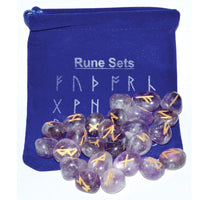 Amethyst is known as the Healing stone . Gold toned runic alphabet on each stone that is under 1". Comes complete with 25 Amethyst Stone with symbol, description Card explaining the Runic alphabet and a velvet bag.
Amethyst is a very powerful crystal that protects and is also known as the stone of contentment & spirituality. It helps to relieve stress with a soothing and relaxing energy while encouraging inner strength. This stone has such a strong energy that it is able to transform negative energy into pure positive energy.
Runes are an ancient form of oracle used by those seeking advice. Runes have a long history, dating back to ancient use by Germanic and Nordic tribes, and are still widely used in today's society. Anyone can have a rune reading, but it's also fun to be able to learn how to use them yourself. 
The word 'rune' simply means mystery, whisper or secret and it's a form of divination or oracle reading system that's used to help gain insight into situations or questions. Runes can be made of various materials, but are most commonly made of stone, and feature a symbol from the runic alphabet on them.