---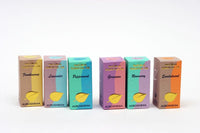 Auroshikha Natural Essential Oil
Not for medical use
FOR EXTERNAL USE ONLY
10ml-1/3 fl.oz
Available In: 
Basil: A sweet-spice scent with a balsamic undertone. Sweet Basil is one of the sacred plants of India. It opens the heart and brings harmony to the mind. Basil has a strong effects on the emotions and can be very strengthening when suffering from depression.
Bergamot: A rich, sweet, fruity scent followed by a more characteristic light refreshing scent. This oil is valuable for depressions and a state of anxiety and has a great uplifting quality. 
Cedarwood: A rich sweet woody scent. This oil is calming elevating and anti-depressive; very helpful in breathing problems, nervous tension and stress related disorders. 
Frankincense: A warm balsamic scent with a hint of lemon. The scent is warming,  head clearing and calming. The best oil to be used during meditation.
Geranium: A delightfully sweet, fresh, rosy scent. One of the few oils that can be used in almost any blend, it helps to keep a person centered and calm, puts people at ease and uplifts the spirit. 
Jasmine (in a sweet almond oil): A Floral warm exotic note. This exquisite oil relaxes, soothes and helps self confidence. It is uplifting and balancing and is excellent for stress and general anxiety. 
Lemongrass: A lemon type, herbaceous scent. This oil tones and fortifies the nervous system and can be used in a bath for soothing tired muscles and nerves. 
Patchouli: An extremely rich, spicy warm & earthy aroma with a balancing note of sweetness. Popular among youth, this oil is uplifiting and rejuvenating besides being useful in a treatment of skin problems & infections. 
Peppermint: A fresh, strong somewhat grassy-minty scent with a deep balsamic undertone. A popular essential oil, it has a cooling, stimulating and revitalizing effect. It also aids concentration and memory. 
Vetivert: A sweet woody-earth scent with a rich undertone of "Precious Wood" notes. A deeply relaxing oil, excellent for aromatic bath. It strengthens the nervous system.