---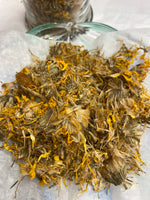 Spiritual Uses: Associated with The Sun. Useful for Protection from negative energy, Psychic ability, Successful harvest, Crop protection, Midsummer rituals.

Arnica is widely used to treat bruising pain and muscle strains, but should not be placed onto open wounds.

Latin Name: Arnica Montana
Common Names: Arnica Montana, Mountain Tobacco, Wolf's Bane, Mountain Arnica

Arnica Flowers or Arnica Montana also known as Mountain Tobacco, Wolf's Bane, and Mountain Arnica is closely related to the Sunflower. Arnica Flower is grown in Europe and in the Western U.S. and has been commonly used for a variety of ailments.

The whole Arnica Flower is used in preparations such as oils and infusions. Like many other well known natural herbs, Arnica Montana has a long history. From seeds to powder, roots or whole, Arnica Flower has long been a popular remedy, including use by the American Indians who made healing ointments and tinctures with native species.
Warning: For external use only. Do not use on open wounds or broken skin.
 
****PLEASE NOTE: Lucero Astral recommends you consult with a qualified/certified Herbalist/Healthcare Practitioner before using any herbal products, particularly if you are pregnant, nursing, or on any medications.