---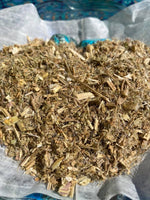 Spiritual Uses: Associated with Mars. Useful for purification, protection, protection against negativity and evil, hex breaking. Healing spells for depression.

Blessed thistle in a tonic is used to increase mother's milk and treat painful menstruation. Regulates unbalance hormones. Tincture of blessed thistle can be used for jaundice, arthritis, and hepatitis. Shrinks inflammation.

Latin Name: cnicus benedictus
Common Names: Blessed thistle herb

Blessed thistle herb, or cnicus benedictus, is one of the most useful natural herbs in the botanical apothecary. When you are looking for herbs, blessed thistle herb should be near the top of your shopping list for its many different potential applications.
A little bit of blessed thistle herb goes a long way. Pregnant and nursing women should avoid blessed thistle herb altogether; those who are taking blood thinners should consult their primary health care provider before taking any extract of cnicus benedictus.
****PLEASE NOTE: Lucero Astral recommends you consult with a qualified/certified Herbalist/Healthcare Practitioner before using any herbal products, particularly if you are pregnant, nursing, or on any medications.