---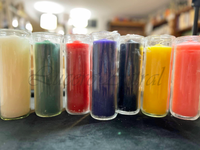 7 day pull-out candles in glass jar.


Available in colors:

White- purity, neutral (all-purpose), serenity, spiritual enlightenment, peace.

Green-prosperity, fast money, healing past lives (use with brown candles for stable resources).

Red-passion, fertility, enthusiasm, conquering, courage, fast action.

Purple-wisdom, intuition, the Divine, prophetic dreams, guidance, power, ambition.

Black- banishing, hex breaker, removing obstacles, protection.

Yellow- success, thought, will, intentions, abundance.

Pink- gentleness, romance, friendship, harmony, family, heart relationships.

Saint Elias (Red)- Saint Elias is considered a prophet and a revered Old Testament figure. Pray to him to put an end to injustice, when facing difficult circumstances or seeking divine protection in times of danger or adversity. Use our 7 Day Saint Elias devotional candle (vela de San Elias) for guidance and wisdom.

8''H x 3''W
Velas de 7 días in vaso de vidrio. 

Disponible en colores:
Blanco- pureza, neutral (multiuso), serenidad, iluminación espiritual, paz.

Verde- prosperidad, dinero rápido, curación de vidas pasadas (úselo con velas marrones para obtener recursos estables).

Rojo-pasión, fertilidad, entusiasmo, conquista, coraje, acción rápida.

Morado- sabiduría, intuición, lo Divino, sueños proféticos, guía, poder, ambición.

Negro- quita brujería, rompe malas energías, eliminación de obstáculos, protección.

Amarillo- éxito, pensamiento, voluntad, intenciones, abundancia.

Rosa- dulzura, romance, amistad, armonía, familia, relaciones del corazón.

San Elías (Rojo)- San Elías es considerado un profeta y una figura venerada del Antiguo Testamento. Ora para que ponga fin a la injusticia, cuando se enfrente a circunstancias difíciles o busque la protección divina en tiempos de peligro o adversidad. Use nuestra vela devocional de 7 días de San Elías (vela de San Elías) para orientación y sabiduría.
8''x 3''