---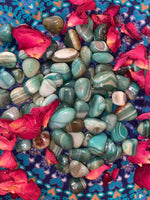 Agate has an antidepressant quality and is helpful to those with emotional issues, providing the ability to let go of pain and allowing them to heal. Agate promotes creativity and positive thought, which aids in finding solutions instead of constantly dwelling on common everyday problems. Agate is very soothing and stimulates the exploration of the unknown furthering the quest towards an enlightened state. It aids in bringing unconditional love and peace into life, strengthening all relationships including those with oneself and with others. There are many things that green agate can offer you. Despite how available and widespread the mineral is, it is true to say that very few people truly understand how powerful the stone can be. The agate healing properties can bring about positive change and affect your mind, soul, and body.

Key Words: Balance, soothing, antidepressant, healing
Chakra(s): Heart (4th)
Element: Earth
Physical: Green agate will enhance healthy bacterial flora and improve your food processing ability. It can help you deal with gastrointestinal upsets. Green agate is also believed to protect children.
Emotional: The stone has a healing property that lifts your spirit and shows that there is still a flicker of hope. With this stone, you will see all is not lost, it will revive your spirit and energize you to keep pushing forward.
Spiritual: Green agate is commonly known as the "Stone of Gifts" in healing circles. Green agate is perfect for people suffering emotionally. Some say it even unlocks some spiritual gifts one never knew they had, such as the ability to read auras or clairvoyance.
Zodiac: Gemini & Virgo
**Lucero Astral's crystals & stones are high quality. Her distributor currently holds a mining contract directly from the mines in Brazil, Morocco, India, Uruguay, Bolivia, Madagascar, Congo and/or Peru.

**All crystals & stones vary in size & shape.