---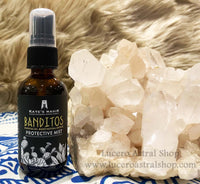 Banditos Protective Mist features therapeutic-grade essential oils suspended in distilled water and organic vegetable glycerin to help guard and protect while supporting healthy immune, respiratory and circulatory systems.* Our formula was inspired by Four Thieves Vinegar used by bandits in the 15th century when robbing the sick during plague outbreaks.
For a southwestern twist, we've further enhanced the blend with the protective and cleansing qualities of White Sage.
DIRECTIONS:  Shake well and spray around the body and living spaces to cleanse, purify & protect while supporting healthy immune function.  Ideal for use during travel.