---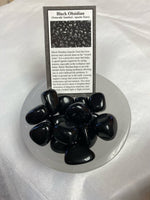 Black Obsidian powerfully eliminates negative energies in oneself and one's environment. It is like a psychic vacuum cleaner, cleansing the auric field of disharmony, negative attachments, astral ''junk'', as well as one's own anger, greed, fear, resentment, etc. It is a strong grounding stone, stimulating the root chakra to make its connection with the Earthstar chakra below the feet, and deep into the core of the Earth. It is useful for all types of scrying including Spirit communication. It is also a strong stone of spiritual protection. In addition, it helps bring one's own shadow material out of exile, allowing it to be transmuted through the heart.
Key Words: Psychic protection, grounding, cleansing of negativity, spirit communication.
Chakra(s): Root (1)
Element: Earth
Physical:  Aids in healing issues caused by unprocessed Shadow material 
Emotional: Helps dispel-judgement and self-sabotage. 
Spiritual: Facilitates psychic cleansing, grounding, protection, spirit communication
Zodiac: Scorpio & Sagittarius
**Lucero Astral's crystals & stones are high quality. Her distributor currently holds a mining contract directly from the mines in Brazil, Morocco, India, Uruguay, Bolivia, Madagascar, Congo and/or Peru.
**All crystals & stones vary in size & shape.