---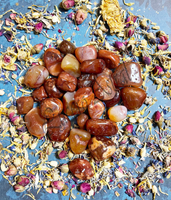 Carnelian activates the first, second and third chakras, bringing an influx of life force, sexual and creative energies, and assertive will. It is a powerful aid to those who wish to build their confidence, courage, passion and power. Carnelian is a stone of physical vitality and energy and can act spiritually to help one regain one's strength after illness or injury. Carrying or wearing it can aid in awakening the vital energies of the 3 lower chakras, increasing zest for living and the willingness to take the risks inherent in all strong actions. 
Carnelian blends its energies well with all other varieties of Quartz, Jasper, Chalcedony. Combining it with Rose Quartz, Agate, Blue Quartz and Amethyst can bring out the harmonious activation of all seven chakras in the body. If extra grounding is needed, Smoky Quartz can be added at the root chakra. For higher vibrational activation, activating the Soul Star & etheric chakras, a Clear Quartz wand can be employed. 
Keywords: Courage, vitality, force, sexuality, confidence, action. 
Chakra(s): Root, Sacral & Solar Plexus
Element: Fire
Physical: Supports strength, vitality, sexuality, detoxing from alcohol or drugs
Emotional: Increases one's courage and enthusiasm 
Spiritual: Aids in overcoming hesitation & procrastination, finding courage to grow spiritually.
Zodiac: Aries
**Lucero Astral's crystals & stones are high quality. Her distributor currently holds a mining contract directly from the mines in Brazil, Morocco, India, Uruguay, Bolivia, Madagascar, Congo and/or Peru.

**All crystals & stones vary in size & shape.