---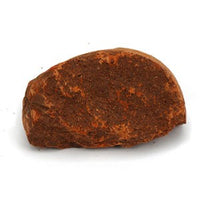 Spiritual Uses:  Associated with Mars, protection, sex magic, and visions.

Provides protection, negativity clearing, productivity. Dragon's blood is a dark red resin from the rattan palm tree. Southeast Asia is its native origin, and it's used for treating wounds and healing intestinal disorders. It can be burned to enhance productivity and is therefore great to use in your office space. This resin creates a lovely "mood" in the atmosphere while emitting a heavenly fragrance.
The fiery red coloration of Dragon's Blood AKA Daemonorops draco makes it easy to see how these herbs we offer got the common name of Dragon's Blood. These herbs are found in tropical regions of Indonesia in Southeast Asia and are known in this part of the world as djerang and jerang. The fruit looks like round red balls, and the resin hydrocarbon secretion that covers the immature fruit of the palm are extracted by being broken off from the fruit, and this is what is used to make Dragon's Blood. The resin is shaped into a solid orb, and this is what it looks like when it comes to market.

In ancient times, Daemonorops draco was used for such applications as dyes and varnishes, medicines and incense. In China, furniture makers used the Dragon's Blood resin to color wooden furniture, while paper used for special events such as the Chinese New Year were tinted with Dragon's Blood. This dried herb is no longer used internally today, but its colorful properties make it useful to artists and craftspeople.

****PLEASE NOTE: Lucero Astral recommends you consult with a qualified/certified Herbalist/Healthcare Practitioner before using any herbal products, particularly if you are pregnant, nursing, or on any medications.