---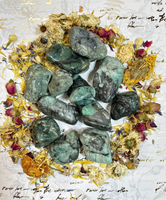 Emerald is known as a stone of prosperity. Wearing Emerald helps attune one's vibrational pattern to the spectrum of abundance, allowing one to attract what one needs and desires. Emerald is also a stone of courage. It helps one move forward on the "path with heart" regardless of any threats or dangers which seem to threaten one. Like Moldavite, Emerald is associated in legend with the fabled Stone of the Holy Grail. It can help one stay centered in the hearts wisdom and can aid in healing heartbreak. 
Key Words: Love, compassion, healing, abundance
Chakra(s): Heart (4th)
Element: Water
Physical: Supports the heart, blood and circulatory system.
Emotional: Opens the heart to love, forgiveness, compassion and trust. 
Spiritual: Facilitates the awakening to Divine Love. 
Zodiac: Taurus & Gemini
**Lucero Astral's crystals & stones are high quality. Her distributor currently holds a mining contract directly from the mines in Brazil, Morocco, India, Uruguay, Bolivia, Madagascar, Congo and/or Peru.

**All crystals & stones vary in size & shape.