---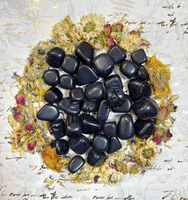 If you're looking for divine connection and the courage to speak your truth, this Tumbled Blue Goldstone is your offering. Although man-made, its deep indigo coloring feels like you're holding the magic of the night sky in your hands. Blue goldstone is a shimmering stone of strength, resolve, and foresight. With its natural copper inclusions, it's a particularly powerful stone for empaths because copper conducts and channels the flow of positive energy throughout a space, especially the body. Working with it helps to bring things into balance. Meditate with this Tumbled Blue Goldstone to channel divine guidance, open to new realms of wisdom and possibility, and confidently speak the wisdom you receive.
Key Words: Divine connection, communication, clarity, brings balance.
Chakra(s): Root (1), Sacral (2) Throat (5) 
Element: Earth and Fire
Physical:  Relieves migraines, improves eyesight, fight eating disorders, aids with inflammation. 
Emotional: Boosts motivation and courage, improve self-impression, soothes hypersensitivity, promotes positive attitude.  
Spiritual: Provides protections, improves intuition and psychic abilities, brings new beginning and balance.
Zodiac: Sagittarius 
**Lucero Astral's crystals & stones are high quality. Her distributor currently holds a mining contract directly from the mines in Brazil, Morocco, India, Uruguay, Bolivia, Madagascar, Congo and/or Peru.

**All crystals & stones vary in size & shape.