---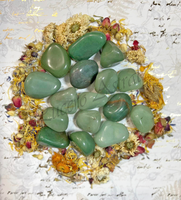 Green Aventurine can be a stone of "good luck" and is recommended for those who wish to manifest greater prosperity. It can assist in other situations where one's overt external actions do not control the outcome. It would be a good stone to carry to the racetrack, a tax audit or a first date. Green Aventurine harmonizes with all members of the Quartz family, as well as Moldavite, Moonstone, Morganite, and both Green and Pink Tourmaline. It brings with it a feeling of lightness, even humor, as it assists one in dealing with ups and downs of life. 
Key Words: Vitality, growth, confidence
Chakra(s): Heart (4th)
Element: Water & Earth
Physical: Supports general healing, increase of life force, heart and circulation
Emotional: Inspires optimism, self-confidence, peace amid difficulty
Spiritual: Brings good fortune and blessing, manifestation and prosperity
Zodiac: Cancer, Virgo & Taurus
**Lucero Astral crystals & stones are high quality. Her distributor currently holds a mining contract directly from the mines in Brazil, Morocco, India, Uruguay, Bolivia, Madagascar, Congo and/or Peru.

**All crystals & stones vary in size & shape.