---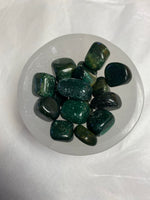 Green quartz possesses all of the generic properties that one can expect from quartz in general. Quartz is a master-healer stone, meaning it is incredibly versatile and has the ability to transform most negative energies into more positive ones.

When looking at green quartz specifically, one tends to experience immense stimulation to the creative and intuitive minds. You'll find yourself gravitating toward activities that fuel your creative-self, whilst also receiving that inner knowledge of what is the right course of action. 

Because this is a stone of green ray energy, it is also said to attract abundance to the individual. Success and prosperity come naturally to green stones, so increased wealth may even start to become second nature.
Key Words: Creativity, success, abundance
Chakra(s): Heart
Element: Earth
Physical: Green Quartz supports the endocrine system and maintains balance in the physical body. Quartz detoxifies the body, helps with chronic illness, encourages a healthy thyroid. 
Emotional: Quartz can provide clarity of thought and aids concentration. Boost mood, heals love wound, and promotes self-growth. 
Spiritual: Quartz is an excellent stone for psychic healing.  It can assist in balancing all chakras, aligning subtle bodies and is great for assisting meditation and spiritual communication.
Zodiac: Taurus & Gemini
**Lucero Astral's crystals & stones are high quality. Her distributor currently holds a mining contract directly from the mines in Brazil, Morocco, India, Uruguay, Bolivia, Madagascar, Congo and/or Peru. 
**All crystals & stones vary in size & shape.