---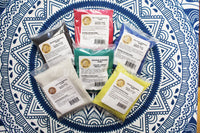 Makes an excellent base for burning the following: Charcoal Resin, Powders, Smudges, Japanese & Tibetan Incense or Cones. Provides an extra layer of protection for safe burning. 
Burning Instructions: 
Pour Sand into the burner & place it on a safer surface. 
Keep out of reach of children, pets and flammable materials. Light your favorite incense and enjoy. 
1 LB Bags
Available In:
Black, Red, White, Green, Yellow, Blue