---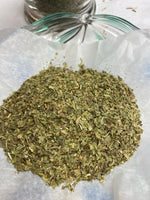 Spiritual Uses: Associated with Mercury. Worn to increase attractiveness or to prevent nightmares. Useful for ritual purification. 
Latin Name: Aloysia triphylla
Common Names: Lemon Verbena

Lemon Verbena Leaf, also known as Aloysia triphylla, has similar uses to mint and orange flowers. Like those natural herbs, Lemon Verbena is commonly used in many different culinary dishes.
****PLEASE NOTE: Lucero Astral recommends you consult with a qualified/certified Herbalist/Healthcare Practitioner before using any herbal products, particularly if you are pregnant, nursing, or on any medications.