---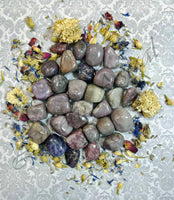 Lepidolite blends the pink ray of the heart with the violet flame of purification and spiritual awakening. It activates one's conscious connection to the higher self and assists one in maintaining that link. Wearing or carrying Lepidolite can facilitate development of one's awareness of the divine presence and can help one to become a conscious co-creator with that presence. When that occurs, the number of positive synchronicities in one's life goes up dramatically. It enhances feelings of peace, serenity, & love, making it ideal for releasing stress, calming frayed nerves and simply letting go. 
Key Words: Soothing the emotional body, relieving stress, enhancing meditation, peace, serenity, love, & divine connection
Chakra(s): All, but especially the Heart (4th) & Crown (7th)
Element: Water
Physical: Assists harmonious functioning of bodily organs and systems.
Emotional: Aids in releasing stress and embracing serenity & love. 
Spiritual: Activates one's link to the divine presence and higher self. 
Zodiac: Libra & Pisces
**Lucero Astral's crystals & stones are high quality. Her distributor currently holds a mining contract directly from the mines in Brazil, Morocco, India, Uruguay, Bolivia, Madagascar, Congo and/or Peru.

**All crystals & stones vary in size & shape.