---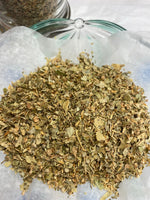 Spiritual Uses: Associated with Jupiter & The Sun. Useful for love, protection, purification & protection. Promoting calmness & tranquility. Strengthens love spells.
Linden has been used to induce sweating for feverish colds and infections, to reduce nasal congestion, and relieve throat irritation and cough.

****PLEASE NOTE: Lucero Astral recommends you consult with a qualified/certified Herbalist/Healthcare Practitioner before using any herbal products, particularly if you are pregnant, nursing, or on any medications.