---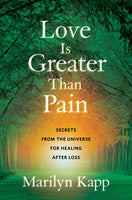 ABOUT LOVE IS GREATER THAN PAIN
An extraordinary new mindful approach to healing after loss that taps into everyone's ability to continue their relationship with those who have passed.

"Marilyn's vast and masterful experience in communicating with passed loved ones illustrate what they want to teach us."—Betty Jampel, LCSW

When Marilyn Kapp was two years old, she watched her grandfather leave his body. He told her he would be back and he was true to his word. When Marilyn realized that others did not share her perception of the spiritual plane, she kept her channeling abilities to herself and her family. This changed when, as a college student, she met writer, Holocaust survivor, and future Nobel laureate Elie Wiesel. He became her mentor and encouraged her to use her perception to help others.

In Love Is Greater Than Pain, Marilyn shares her profound understanding of the afterlife. Today a renowned medium, Marilyn reveals the beauty in the transition from the physical to the spiritual plane, helping those who are dying, as well as those left behind. With personal stories and transcripts from channeling sessions, Marilyn teaches us how to interact with the afterlife and to joyfully embrace the reality that love truly is greater than pain.

Marilyn shares universal messages of comfort, forgiveness, and understanding, including specific guidance for bereaved parents, for those dealing with dementia, and even for people who are grieving for their animal friends.

Marilyn's groundbreaking seminal work offers practical advice, clear takeaways, and a new approach to death, grieving, and living your best life, sharing concrete steps for:
• Raising your personal vibration to increase health, joy, and the ability to receive channeled information and love.
• Helping yourself and others honor life while grieving.
• Understanding the parallel process of growth that we share with those who have passed.

When we honor life as we grieve, we offer healing and support to one another, as well as conscious collaboration with those who have passed.