---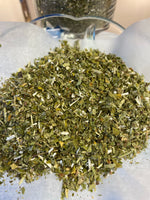 Associated with Venus.
Spiritual Uses:
Motherwort energies promote inner trust and confidence that the ultimate outcome will be best for all involved in the fullness of time. It is also used for counter-magic and associated with immortality and spiritual healing. It is a protective herb, especially in spells designed to protect pregnant women and their unborn children.


Some recommend smoking motherwort to promote astral projection, but smoking too much can cause respiratory arrest. It is therefore perhaps best burned in an incense burner or smudge pot rather than smoked directly. It is especially effective in combination with mugwort.

Motherwort is associated with Frigga (Freya, Frige, Fricka, Frija) and Ogun
It corresponds to the energy and the element of water
Medicinal Uses: 
Motherwort is used for heart conditions, including heart failure, irregular heartbeat, and heart symptoms due to anxiety. It is also used for the absence of menstrual periods, painful menstrual periods, menopause symptoms, intestinal gas (flatulence), cancer, sleep problems, asthma, and over-active thyroid (hyperthyroidism).

**These statements have not been evaluated by the Food and Drug Administration. These products are not intended to diagnose, treat, cure, or prevent any disease.
*******PLEASE NOTE: Lucero Astral recommends you consult with a qualified/certified Herbalist/Healthcare Practitioner before using any herbal products, particularly if you are pregnant, nursing, or on any medications.