---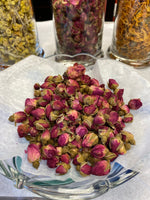 Spiritual Uses: Useful for magic love spells & stimulate one's sex drive. Helps developing psychic knowledge & intuition. 
Rose Boutons are the tiny rosebuds from the wonderful cabbage rose known as Rosa centifolia. Centifolia refers to the many petals these roses have; up to one hundred per blossom is not uncommon. 

Rosa centifolia, the rose that produces Rose Boutons, is classified as a hybrid rose. The canes of the rose droop over, and especially so when the rose is in bloom, because of the weight of the rose flowers. This particular kind of rose is also grown widely in Grasse, France, where perfume companies are located. The essential oil of this rose is often used in the making of perfumes when the light, sweet distinctive scent is needed.

There are several different ways to utilize these beautiful Rose Boutons. If you enjoy making your own sachets, the addition of these tiny rose buds will help to bring a rose scent to the mix. They can also be used in the making of potpourri; a potpourri with these rose buds included will make for a colorful and fragrant display when the potpourri is placed in a bowl or clear jar. The rose buds can also be used to great effect in many craft projects that utilize dried flowers. Finally, they can be included in certain herbal body care products to add their color and scent to the mix. 

****PLEASE NOTE: Lucero Astral recommends you consult with a qualified/certified Herbalist/Healthcare Practitioner before using any herbal products, particularly if you are pregnant, nursing, or on any medications.