---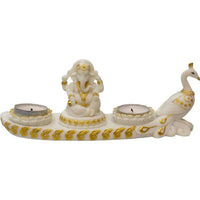 This beautiful Ganesh & Peacock Polyserin T-Light Candle Holder will be a perfect addition in your space. 
Lord Ganesha clears the obstacles and paves the way for us to move forward in life. The large elephant head of Lord Ganesha symbolizes wisdom, understanding, and a discriminating intellect that one must possess to attain perfection in life.
The peacock spirit animal is the epitome of beauty. This graceful power animal offers lessons about self-love, honor, integrity and the importance of facing life's challenges as well as the unknown with courage and confidence.
Holds 2 Tea Light Candle
Measures 9'' Long by 3'' Tall