---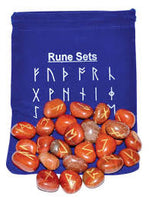 Red Jasper Using Runes is an ancient divination practice and pairing it with red jasper will act as an anchor when you tap into your psychic . Gold toned runic alphabet on each stone that is under "1. Comes complete with 25 Red Jasper Gem Stone with symbol description Card explaining the runic alphabet and a velvet bag.
Red Jasper is a calming stone considered sacred by many Native Americans as the blood of Earth. This stone connects one to the vibrations of the Earth helping to bridge the gap between man & nature. It aids with dream work and enhances the ability to have lucid dreams. Red Jasper helps those who suffer from nightmares to have a more tranquil and peaceful night's sleep.

Runes are an ancient form of oracle used by those seeking advice. Runes have a long history, dating back to ancient use by Germanic and Nordic tribes, and are still widely used in today's society. Anyone can have a rune reading, but it's also fun to be able to learn how to use them yourself. 

The word 'rune' simply means mystery, whisper or secret and it's a form of divination or oracle reading system that's used to help gain insight into situations or questions. Runes can be made of various materials, but are most commonly made of stone, and feature a symbol from the runic alphabet on them.