---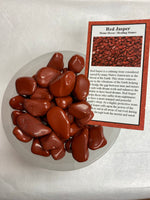 Red Jasper is a calming stone considered sacred by many Native Americans as the blood of Earth. This stone connects one to the vibrations of the Earth helping to bridge the gap between man & nature. It aids with dream work and enhances the ability to have lucid dreams. Red Jasper helps those who suffer from nightmares to have a more tranquil and peaceful night's sleep. As a highly protective stone, Red Jasper calls upon the power of the Earth to aid in all areas of survival during travel through both the mortal and astral realms. Red Jasper can help one's endurance and stamina and can work overtime to increase the amount of chi, or life force, in one's energetic field. It strengthens the root chakra and deepens one connection to the Earth. It enhances memory, especially of dreams or other inner experiences, 
Keywords: Physical strength and vitality & stability. 
Chakra: Root & Sacral
Physical: Enhances strength and stability, encourages recovery from physical weakness due to illness, useful in generating muscle tissue, can enhance effects of exercise, supports the circulatory and respiratory systems. 
Emotional: Aids in releasing attachment to negative emotional or sexual experiences. 
Spiritual: Stimulates root chakra, supports rising of the kundalini energy. 
Zodiac Sign: Aries & Scorpio
Element: Earth & Fire
**Lucero Astral's crystals & stones are high quality. Her distributor currently holds a mining contract directly from the mines in Brazil, Morocco, India, Uruguay, Bolivia, Madagascar, Congo and/or Peru.

**All crystals & stones vary in size & shape.