---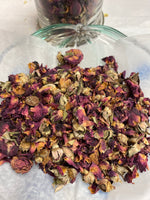 Spiritual Uses: Associated with Venus. Useful for love, lust, confidence, divination, manifesting money, wealth & peace. 
Lucero Astral is proud to offer the highest quality Organic Red Rose Petals and Red Rose Buds and Petals, also known as Rosa centifolia. Red Rose Buds and Petals are often used for their aromatic properties, which add a wonderful scent to sachets, potpourri and herbal body care blends.
****PLEASE NOTE: Lucero Astral recommends you consult with a qualified/certified Herbalist/Healthcare Practitioner before using any herbal products, particularly if you are pregnant, nursing, or on any medications.