---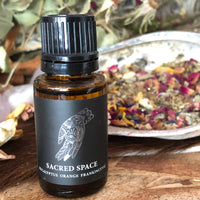 0.5oz Essential Oil
NOTES: Eucalyptus, Orange, & Frankincense.

AFFIRMATION
Place plays its part in the vital and common.
At a pinpoint on a map devotion is love
when hands wash across curves of the adored tabletop.
Great spirits live and breathe a caress first whispered house,
then resounded, sacred home.
INGREDIENTS
Proprietary blend of organic essential oils, organic fractionated coconut oil encasing a crystal charged under the full moon.

INSTRUCTIONS
With coconut as the carrier oil, Magic Fairy Candles essential oil blends are ready to be safely applied by the drop upon the skin. Classic application areas include the inner wrists, neck, temples, bottom of the feet, and crown of the head.