---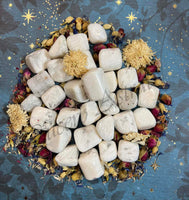 The phrase that best summarizes the energy of Scolecite is "inner peace." These stones emanate a deep peace that resonates through one's entire auric field. For those who wish to enhance meditation, sleep more restfully or dream more sweetly, Scolecite is highly recommended. The uplifting, relaxed state brought by Scolecite is ideal for healing sessions, meditations, lucid dreaming or restful sleep. It offers protection from the intrusion of negative astral energies, as it lifts one to the higher vibrational planes. Scolecite is a very interdimensional stone. Contact with intelligences from far-flung inner and outer domains is possible when Scolecite is used for journeying. It also assists time traveling, allowing one to access knowledge from ancient and even "future" civilizations. 
Key Words: Inner peace, relaxation, tranquility, interdimensional travel, awakening the heart.
Chakra(s): Third Eye (6th) & Crown (7th)
Element: Air
Physical: Spiritually supports stable brain function and serotonin levels.
Emotional: Aids emotional stability, brings feelings of tranquility and serenity.
Spiritual: Facilitates interdimensional and time travel, link to higher realms. 
Zodiac: Capricorn
**Lucero Astral's crystals & stones are high quality. Her distributor currently holds a mining contract directly from the mines in Brazil, Morocco, India, Uruguay, Bolivia, Madagascar, Congo and/or Peru.

**All crystals & stones vary in size & shape.