---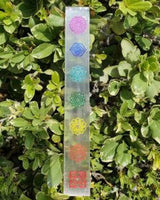 Selenite 7 Chakra Colorful Wand 6x1". Please note this is a natural gemstone product a slight variation in size can occur, Minor imperfection is normal as it is natural stone. 
Selenite is thought to be one of only a few crystals that can cleanse and recharge both itself and other gemstones, especially quartz. Selenite calms and soothes, bringing a deep peace and tranquillity.
Chakras are the circular vortexes of energy that are placed in seven different points on the spinal column, and all the seven chakras are connected to the various organs and glands within the body. These chakras are responsible for disturbing the life energy, which is also known as Qi or Praana.