---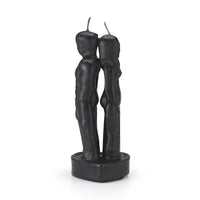 Disponible en/Available in: 
Negro/ Black
7'' de Altura/ Tall
Vela es representada por un hombre y una mujer dandose la espalda en una base de corazon. Las dos figuras estaran separadas hasta que se vuelvan unir habilitando que esta vela sea cortado a la mitad permitiendo mas opciones de trabajo con la vela. Escribe el nombre de la pareja de quien desea separar de abajo de la vela junto con aceite de separacion. 
A 7" tall dual wick candle. This candle represents a man & woman turning away from one & other on a heart shaped base. The two figures are separate from each other until they are joined at the base enabling this candle to be cut in half at the base to allow for more options in working with the candle. Write the names of the man & woman you wish to separate and anoint with our Separation Oil.