---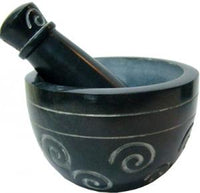 Hand Carved Spiral Black Soap Stone Made in India.
Spiral Soap Stone Mortar & Pestle 2.5"H 4"D
A mortar & pestle is used to grind together herbs and incense resins. The stick-shaped pestle crushes the ingredients in the bowl. Many people use it to create magical blends for spells. Made of carved soapstone.