---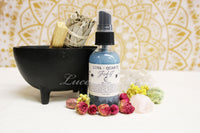 Stardust Dream Mist a shimmering cosmic blend of crystals and essential oils to help aid in restful sleep and cosmic dreams. This bedroom mist in infused with crystal quartz to balance energy, protect, and promote divination in dreams. Rainbow moonstone is associated with the moon and acts as a prism diffusing energy throughout the aura. Moonstone also aids in lucid dreams and calm sleep. Notes of Lavender, Chamomile, Bergamot, and Ylang Ylang.
2 oz | 60 ml
How to use: Gentle shake and spray in bedroom and over bed.
Ingredients: Crystal Quartz + Moonstone + Rose Quartz + Amethyst Crystal infused Alkaline water, Witch Hazel, Essential oil blend, and Mica. Crystals of Crystal Quartz and Moonstone.
+This product is not intended to diagnose, treat, cure, or prevent any type of disease or medical condition. No claims have been made or approved by the FDA. Please research all essential oils before using if pregnant or nursing. We suggest seeking professional medical advice if you feel necessary.+