---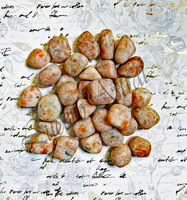 Sunstone is a stone of personal power, freedom, and expanded consciousness. It reflects the qualities of Solar Light-openness, benevolence, warmth, strength, mental clarity and capacity to bestow blessings. Sunstone can kindle the fire of leadership within those who wear or carry it. It helps leaders find the inner conviction and self-discipline to move forward. It removes the sense of unworthiness that can keep one from fully being who one is. Sunstone engenders a sense of abundance in regard to all ones need and desires, and it can assist one in manifesting prosperity, acquiring knowledge and attaining wisdom. It can bring the hearts wisdom into alignment with the mind's inspirations. Meditating with Sunstone on the third eye will help one to see one's highest course of action in any situation. Sunstone energizes the second and third chakras, stimulating leadership and will, creativity, and sexuality. It can bring exuberance and innovation into ones romantic and/or artistic expressions. 
Keywords: Leadership, benevolence, strength, abundance of blessings, enlightened male energy. 
Chakra(s): Sacral & Solar Plexus
Element: Fire
Physical: Warms the body, increases metabolism, digestion and vitality; supports endocrine and reproductive systems. 
Emotional: Encourages a positive, benevolent attitude; overcomes self-doubt.
Spiritual: Inspires responsibility, conviction, benevolence; aids properity
Zodiac: Libra & Leo
*Lucero Astral's crystals & stones are high quality. Her distributor currently holds a mining contract directly from the mines in Brazil, Morocco, India, Uruguay, Bolivia, Madagascar, Congo and/or Peru.

**All crystals & stones vary in size & shape.