---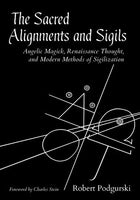 ABOUT THE SACRED ALIGNMENTS AND SIGILS
A breakthrough in occult studies that combines modern sigil techniques with traditional Enochian Magick and appeals to all levels of ritual magick practitioners, explorers of consciousness, scholars, dowsers, and tantric yoga practitioners

Author and magick practitioner Robert Podgurski shares his discovery and development of the Grid Sigil–a tool for exploring the mysteries of embodiment and unity that bridges Enochian Magick with Sparean sigilization. Properly constructed, it emanates the root energies of the four elements bound by spirit in the space/time continuum. This text offers readers a variety of techniques for using the Grid Sigil and is an essential guidebook for understanding the connection between Enochian Magick, geomagnetism, shamanism, and other facets of Eastern and Western esotericism. Close attention is paid to critical metaphysical thought through in-depth analysis based in science, metaphysics, philosophical speculation, and illustrations.