---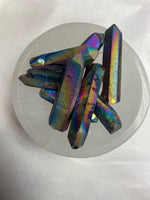 Titanium Aura Quartz Point is also called the stone of universal light. It is also sometimes called flame aura quartz. Titanium aura quartz is a high vibrational stone. This higher vibrational energy, when combined with the human energy field, can result in a net rise in vibrational frequency in a person working with it. It can also help you connect to Source energy. Titanium Quartz clears a pathway for the vital life force to flow, energizing and enlivening all the chakras. Wearing one of these stones can make us feel grounded, centered and energized all at once. It helps us to dispel sorrow, replacing it with joy by stimulating humor and relaxation. It can activate and enhance our mental abilities making us more confident, self-aware and focused.
Chakra(s): All
Element: Fire
Zodiac Sign: All


**Lucero Astral's crystals & stones are high quality. Her distributor currently holds a mining contract directly from the mines in Brazil, Morocco, India, Uruguay, Bolivia, Madagascar, Congo and/or Peru.

**All crystals & stones vary in size & shape.