---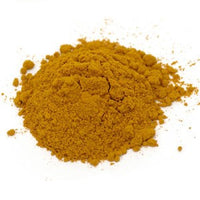 Spiritual Uses: Associated with Mars. Useful for commanding, confidence, courage, exorcism, magic, sensuality, spell-breaking, strength.

One of the most easily recognizable spices used in middle eastern cuisine, turmeric (Curcuma longa) has a slightly bitter, warm taste. A close relation to ginger, the turmeric shrub is primarily cultivated in southeast Asia and parts of Africa. It is often used as part of food seasonings for spicy curries and pungent mustards. Like other strong organic spices, turmeric is typically used in a ground form for culinary purposes.

****PLEASE NOTE: Lucero Astral recommends you consult with a qualified/certified Herbalist/Healthcare Practitioner before using any herbal products, particularly if you are pregnant, nursing, or on any medications.