---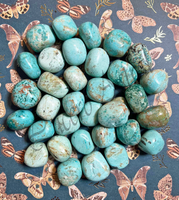 Turquoise is the stone of wholeness & truth, and it aids in the communication and manifestation of those qualities. It stimulates and harmonizes the throat chakra, making it easier for one to speak one's deepest wisdom. Because it's a stone of wholeness, Turquoise is also beneficial to overall wellbeing. It brings balance, serenity & peace. Turquoise can help restore depleted vitality and lift sagging spirits. This stone has the ability to heal the emotional body, relieve stress and bring the focal point of awareness to its proper center in the heart. Turquoise teaches the wisdom of compassion and forgiveness. Through its heightening of emotional intelligence, Turquoise demonstrates that when one releases one's insistence on "justice" and views others through the lens of compassion and forgiveness, one immediately receives those gifts through one's own heart. 
Keywords: Wholeness, communication, and spiritual expansion.
Chakra(s): Throat 
Element: Air & Fire
Physical: Increases life force in the body, supports blood oxygenation
Emotional: Encourages self-forgiveness and the release of useless regrets. 
Spiritual: Inspires one to act out of truth, compassion and forgiveness. 
Zodiac: Sagittarius 
**Lucero Astral's crystals & stones are high quality. Her distributor currently holds a mining contract directly from the mines in Brazil, Morocco, India, Uruguay, Bolivia, Madagascar, Congo and/or Peru.

**All crystals & stones vary in size & shape.