---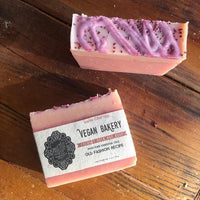 This treat will satisfy your sweet tooth. A sweet almond blend will send you to a place where the only thing that matters is the cookie in your hand. Sparkles, and strawberry seeds on top are sure to bring a smile to your face.

Cleansing & Moisturizing with Organic & Fair Trade Cocoa & Shea Butters.

Gentle cleanser with a big bubbly lather.

Ingredients: Saponified (Organic) Olive Oil, (Organic) Coconut Oil, (Organic) Coconut Milk, (Organic & Fair Trade) Shea Butter (Organic & Fair Trade) Cocoa Butter, (Organic) Sunflower Seed Oil, Essential Oils, Mica, Strawberry Seeds, Love
NO NONSENSE | ALL VEGAN | NO EXCEPTIONS


APPROXIMATELY 6 OUNCES EACH
Due to the nature of handmade soap, color, and weight may vary slightly.

The wild flower seed embedded label band that we wrap each bar soap in, is sustainable, tree-free paper.