---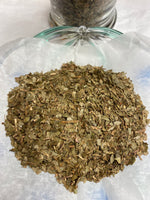 Spiritual Uses: Associated with Saturn & The Sun. Useful for chastity & protection, divination, healing & emotional balance. Carry to ease grief over a lost love.
Witch Hazel Leaf or Hamamelis virginiana also called snapping hazel, striped alder, spotted alder, tobacco wood and winter bloom is a North American native shrub. This natural herb comes in many forms, and makes a favorite addition to any well stocked organic herbs collection. Both the leaf and the bark of Hamamelis virginiana been used for herbal remedies.
Good for hemorrhoids, acne control, scalp sensitivity, sore throat, infection, disinfectant.
****PLEASE NOTE: Lucero Astral recommends you consult with a qualified/certified Herbalist/Healthcare Practitioner before using any herbal products, particularly if you are pregnant, nursing, or on any medications.