---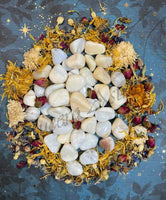 Opal in all of its colors is a stone of gentle energies. Yellow Opal resonates with the solar plexus chakra and therefore has an uplifting and revitalizing effect. It can help to reinforce positive emotions and bring emotional stability. It is great for removing blockages, particularly ones that are self-imposed and limit personal growth. It can enhance psychic visions and abilities and physically can be used to treat gallstones, kidney stones and helps the body fight infection. Opal has some excellent properties but please do not use or carry Opal if you are feeling down, pessimistic or negative in any way as this stone can reflect moods and manifest beliefs. Opal will however, beam out positive thoughts if you are feeling cheerful and optimistic.
Keywords: Joy and happiness, positiveness, emotional stability 
Chakra(s): Solar Plexus (3rd) & Throat Chakra (5th)
Physically: Opal is great for strengthening the immune system, assisting the body to become more resistant to infection. Opal treats Parkinson's disease, infections, fevers, it can regulate insulin and the metabolism and also ease pain in childbirth. It is also effective in easing Pre-Menstrual Tension.

Emotionally: Opal can aid inventiveness and creativity. It also helps self expression. Opal can help to let go of inhibitions, promote freedom and independence and enhance the imagination. Historically Opal has been linked to love, ardour and longing. It is a stone which will convey a light hearted cheerful attitude and can strengthen sense of self worth. It encourages faithfulness, fidelity and confidence.

Spiritually: Opal has the potential to enhance psychic powers, dreamwork and assist on spiritual journeys. It is soothing and calming to the throat chakra and can encourage telepathic interaction. Opal is also a stone of karma showing that what we give out we get in return.
Zodiac: Aries & Sagittarius
**Lucero Astral's crystals & stones are high quality. Her distributor currently holds a mining contract directly from the mines in Brazil, Morocco, India, Uruguay, Bolivia, Madagascar, Congo and/or Peru.

**All crystals & stones vary in size & shape.